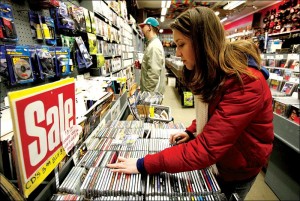 Regular readers will know I'm in the process of doing up my flat. I'm starting with the kitchen – although I wanted to start by ripping up the carpets and putting in floorboards, Dad's sensible advice was to start with the dirty work and worry about prettying it up later. This week I got my first quote.
I'm not enthusiastic about renovating. Let's face it, I'm dreading it after seeing the major stress it caused my father and stepmother. At one point their upstairs bathroom collapsed on top of my father's head when he was standing underneath it downstairs. Plus I've recently been regaled by tales from a mate whose mother is in renovation hell – she's been doing up her studio since the start of the year and at the moment the place remains unfinished and it's lawyers at 20 paces between her and the builder.
When it comes to choosing things like kitchen taps my attitude is care factor zero, which is a shame because I always thought I'd really get into doing something up. But the reality of having to take time out of my day to source multiple quotes, put up with no kitchen and bathroom when work starts, and endure builders' noise while trying to work at home leaves me underwhelmed.
Not to mention the fact that I thought I could just rip out and replace the kitchen cupboards and be done with it. But having talked to the builder yesterday it seems that I need to not only reposition the hot water heater that's in the kitchen, I need to buy a new one entirely and potentially negotiate this with the owners' corporation, among other things that sound like major work to me. (Geez, looks like I've turned into a renovation bore already and I haven't even started – I'll do my best to spare you from the minutiae of the job in future posts).
But I digress. The point of this column is to question whether laziness will cost me money. I am sorely tempted just to go with the first quote and be done with it. As far as I'm concerned I just want the kitchen done and the quicker that happens, and with the least fuss, the better.
But rather than take this approach I have committed to getting at least two more quotes to make sure I'm not paying above the odds. But am I really going to save myself money doing this? The fact I will have to take time out of my working day to talk to other contractors, not to mention source them in the first place, will cost me money because it's time that will be spent not working.
I also don't have much of a history shopping around for great deals. When I found my place it was a private sale and I had only looked properly at one other property. I was never going to spend six months doing my research and looking at everything that opened and shut on a Saturday morning. Maybe I paid too much for my place, but given the valuer gave the bank the go-ahead to give me a loan for my place seems to suggest although I may not have gotten a bargain, I didn't pay too much.
My sister, on the other hand, won't rest until she finds the best bargain she can. She's an eBay queen and will spend hours hunting down good quality furniture, kids clothes etcetera, and is prepared to travel to the other side of the city to pick up her purchases.
Maybe I've done myself out of a few bob by not properly researching my purchases – but it's not like I do no research. With my property I talked to a whole heap of people including a number of different agents about what they thought was a fair price and there's a lot of information you can get on the internet at any hour which means you don't have to give up your Saturdays for a year researching properties and prices to death.
The time I've saved traipsing around the shops or from open house to open house I've spent surfing, working, seeing family and friends or doing yoga. I reckon that's time well spent. I guess at the end of the day, the thrill of bargain chasing does nothing for me.
What do you think? Are you turned on by chasing down a bargain? Or, like me, are you happy to pay a bit more as long as you can spend more time doing something you love?
Article from: http://www.smh.com.au/money/on-the-money/blogs/savvy-investor/bargain-apathy/20101001-15zyi.html