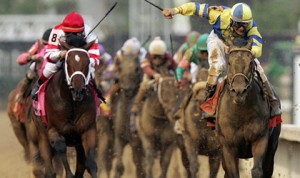 I know a couple that once had a share in a thoroughbred racehorse. For the purposes of this article we'll call them Wal and Mrs Wal. Caught off-guard one day by an old, irascible mate, back when the economy was riding high, Wal agreed to buy a one-tenth share in the nag, which cost him $10,000.
At first there were high hopes for the filly, which had been purchased at the famed Magic Millions horse sales on the Gold Coast. Wal and Mrs Wal had dreams of hobnobbing in it the exclusive Owners' Enclosures at Randwick and Flemington, sipping champagne with the Waterhouses and the Freedmans, bathed in the glow of reflected glory from their horse's regular wins at the track. But this was not to be.
I'm jumping ahead. Let's start at the beginning. When the horse was purchased Wal's mate bought a half-share, then set about finding five others to form the syndicate, one of which was Wal's mate's accountant. This meant with Wal's and the accountant's share, Wal's mate had effective control of the asset, should conflict ever arise between the members of the syndicate.
The filly came from good stock, a famed Kiwi stallion and an Irish dam. Those in the syndicate travelled to the breeder's riverside property, which had a proper track and barrier, to see their potential future champion. And all fell in love with the pretty little filly – especially Mrs Wal after the horse rested her head on Mrs Wal's shoulder. This horse was a sure bet.
The syndicate put great thought into choosing a name for the little filly. Each member came up with a name as they had to submit a list of names to the Australian Jockey Club. But all agreed Wal and Mrs Wal's name – Pop the Bubbly – was the best. They waited with great anticipation to find out what moniker the horse would carry. But alas every name they submitted bar one, Ms Millionaire, was rejected for either being already taken, too similar to the name of another horse or too offensive.
Costs for training and upkeep were not high – Wal and Mrs Wal paid around $300 a month, which went towards the cost of stabling the horse, vet's bills and training.
So preparations began to ready the horse for its first race. After some months of training Ms Millionaire was ready for its first barrier trial. The syndicate waited with bated breath for news of horse's brilliance. But it refused to jump, wouldn't get out of the barrier.
Now, this is not unusual in young horses, and the syndicate was not worried – after all, horses are not born knowing how to jump out of the gates – they have to be taught this skill. All Ms Millionaire needed was some time to learn what to do. But at the second barrier trial the horse again refused to jump. The trainers advised the syndicate that all the horse needed was a little rest, so off it went on a holiday to the Southern Highlands.
Back from its spell in southern New South Wales and once again in the hands of her trainers, Ms Millionaire was finally taught to jump out of the gates at the right time. So the horse was ready for its first proper race. Although the syndicate fancied a first start for the horse somewhere where it could really shine – maybe Hong Kong – it ran its first race at Hawkesbury. And came last.
The trainers advised the syndicate the horse needed another holiday, so off it went for another rest. Again it ate grass in the Southern Highlands for six months, on the syndicate's dime. On its return the trainers prepared Ms Millionaire for its second race at Wiseman's Ferry. There were high hopes. But again it came last.
The syndicate now knew drastic action was needed, so they arranged for Ms Millionaire to train with, in Wal's words 'the next you-beaut trainer', a man with a reputation as a horse whisperer par excellence. He advised the syndicate the horse needed an 18-month rest. This filly had more holidays than a member of the Royal family.
Wal says "we then sent her to Gai Waterhouse, but she couldn't do anything with her either. So we sold her for $1,500 to a Port Macquarie trainer who had a win with her at her next race. I put it down to her being well rested."
Wal and Mrs Wal have no regrets about their time as thoroughbred owners. "I look at it like buying a car – if I'd bought a new car it would have dropped in value by $10,000 as soon as I'd driven it out of the car yard. And it wasn't too hard to find the money for her upkeep. The feeling of being a racehorse owner was exciting. But would I do it again? I guess the answer is neigh!"
Good luck to all punters this Spring Racing Carnival. I'd love to hear from readers about their own experiences investing in highly speculative ventures.
Article from: http://www.smh.com.au/money/on-the-money/blogs/savvy-investor/wallys-folly/20101017-16ooy.html