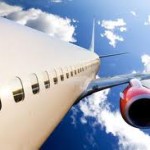 It seems too good to be true, but it's now possible to earn frequent flyer points by paying off your mortgage.
Qantas Frequent Flyer and Macquarie Bank have joined forces with the new Macquarie Bank Flyer Home Loan. Borrowers who take out the loan will earn 10,000 Qantas points for every $100,000 borrowed at the time a property settles.
If the balance is more than $150,000, points also accrue throughout the course of the loan. Borrowers earn 1000 points each month and an extra 25,000 bonus points three and five years into the loan.
So a home loan of $350,000 will earn 35,000 points at settlement, which Macquarie says is enough to redeem a business-class flight from Melbourne to Sydney return (32,000 points plus $69.94 fees, charges and taxes).
Macquarie Bank's head of personal banking, Tony Graham, says the number of points a borrower can accrue through a mortgage is not capped, which means if you have a $1 million mortgage, you'll earn 100,000 points at the time the loan settles, plus the monthly and bonus points.
Graham says he's expecting people to switch to the loan just to get access to the points, with target markets new property buyers and people refinancing loans.
"We're looking for differentiation in the market," he says. "Consumers like frequent flyer points and travel is a high priority for people who invest in property. It's a good combination and an innovative way to help those who like to travel."
There are no switching or application fees attached to the loan.
Online calculators
Macquarie isn't the only bank pitching to people in the market for a home loan. Westpac's head of home ownership, Melanie Evans, is encouraging borrowers to use the bank's online calculators to work out how to reduce the life of their loans.
"Simply paying off an extra $100 a month could save up to four years off your loan and around $43,000 on an average $300,000, 30-year loan, assuming a 5.28 per cent per annum interest rate," she says.
"Paying off the same loan fortnightly rather than monthly would save up to five years and around $53,000 in interest." At NAB, the general manager, consumer lending products, Melissa Reynolds, claims the bank has had the most competitive standard variable home loan rate for more than four years.
It is also waiving application fees on its base variable home loan, she says. For customers applying for a home loan through a mortgage broker, it's also doing away with the Homeside HomePlus application fee of $600 for loans of more than $250,000.
At ANZ, people in the market for a home loan should be aware of its ANZ Buy Ready product, which packages all the elements needed to snap up a property at auction. This includes approval in principle for a home loan, so buyers know how much they can spend while bidding for a property. It also comprises a property profile report, so buyers know how much their current property is worth and about how much the property they're looking at is worth.
CBA is launching a new everyday offset account feature in October.
The bank claims it will be the only one of its kind among the major banks because it allows multiple transaction accounts to be fully offset against the customer's home loan.
Expect more announcements from the banks about home-loan innovations as they compete for a slice of action and as residential lending continues to heat up.
Read more: http://www.smh.com.au/money/planning/a-mortgage-sweetener-theyre-hoping-will-fly-20131008-2v4r6.html#ixzz2hBTYLxQz