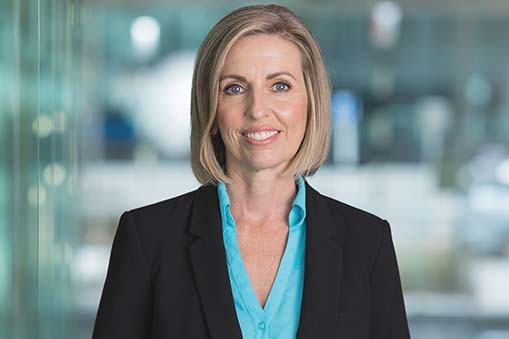 Auckland Airport chief executive Carrie Hurihanganui is right at the start of an incredible journey. She's just been appointed head of a very sexy infrastructure asset in investors' eyes. Plus, post COVID's border closures, her business is operating in a sector experiencing one of the greatest turnarounds in the history of commerce: travel and tourism. It's a tantalising story she's relishing telling. And boy, does she have the pedigree to tell it. 
Hurihanganui, who stepped into her new role in February this year, has a competitive advantage in that she has worked across such a diversity of roles airside and landside within the airline and travel industry before stepping into her current role in 2021. This gives her more insights into the workings of an airport than most CEOs in similar roles.
Originally from the US, Hurihanganui initially went to New Zealand for a gap year of sorts, with no thought initially to make it her home. "I became friends with an exchange student from Rotorua in my last year of high school. We had a cunning plan that I would come for a six-week holiday and return home to the US for university. During those six weeks, I met a charming young Kiwi man and I have now lived in New Zealand for 33 years. Living in New Zealand has been a fantastic opportunity, even though I miss the family in the States."
After falling in love with her now-husband and Aotearoa, Hurihanganui joined Air New Zealand in 1999 as international flight crew at first, as a means to an end, which was to fast track her university studies. It was the start of lengthy career with the airline and she only left the business this year to take up her role with Auckland Airport. She has a Bachelor of Business Studies from Massey University, and has also completed studies at Harvard.
<subhead> A very good place to start
Back at the start of Hurihanganui's career, after a long-haul flight, she would have a couple of days' layover and use the time to study and work on her assignments. "That helped me accelerate my goal of getting my degree. But once I had my son, I chose to finish flying and moved into ground-based roles. That allowed me to move through a number of different opportunities, everything from retrofitting flight seats onto aircraft to leading cabin crew in Auckland and London. I was involved in starting a Shanghai base for Air New Zealand. I've managed Auckland domestic airport and Air New Zealand's three subsidiary airlines. I spearheaded a customer experience transformation, which gave me the chance to lead the executive team for ground operations. This led to my most recent role before my current role, Air New Zealand's chief operating officer." The job encompassed responsibility for pilots, cabin crew, airports, engineering and maintenance, properties and infrastructure, supply chain, resourcing and airline operations teams. Experience she is now able to lend to Auckland Airport.
Hurihanganui says she is fortunate her career has given her a tremendous opportunity to work across many different aspects of flying. But her current role is perhaps the most rewarding so far. "I have aviation in my bloodstream. I love the industry and the role it plays for New Zealand given tourism and trade is just so important for our economy. Auckland Airport is the strategic gateway to New Zealand, with 90 per cent of all travellers transiting through here. As we come out of COVID, Auckland will play a vital role in New Zealand's recovery in the short term and support the ongoing growth of the economy. So I am lucky to be in a hugely appealing role and I am just delighted to join the team."
She says having such deep exposure to the airline and travel sector has given her great insights into what's important to customers and to airlines. She also has an intimate understanding of the challenges and opportunities they are facing.
"There's an enormous amount of shared interest between airports and airlines, but they don't always agree on everything. That's the nature of business, but those common interests are a tremendous platform on which to build. COVID really brought that to the fore because everybody was facing the same challenges. Collective efforts, insights and discussion between the different parties has helped the industry to navigate the last two years."
<subhead> Investor relations at the forefront
Just six weeks into her chief executive role when Listed@ASX spoke to Hurihanganui, she says a good chunk of that time so far has been spent talking to investors across Australasia. Some of the focus of that discussion has been Auckland Airport's recent half year results. Investors are also always very interested in any insights she can give them about New Zealand's roadmap out of COVID.
The business posted a net underlying loss after tax of $11.5 million for its February half year. Although its reported profit tax was up 274 per cent to $109 million, as a result of a $132 million non-cash investment property valuation uplift. Earnings per share were up 274 per cent to 7.39 cents. Auckland Airport has a market capitalisation of about $10 billion.
"I'm new to the organisation and new in the seat. So we've been investing a great amount of time connecting to our shareholders and understanding their thinking. The investor relations team already understands what's on our investors' mind. But I'd like to know that first hand. Establishing relationships has been my number one priority, particularly with border settings changing. There's intense interest in what it means and what the future may look like.
"We're working through the recovery of aviation and rising travel demand. Some of that is in our control. Some of it's not. So we have been sharing our COVID strategy, which is: respond, recover, accelerate. We're in the recover zone, pointed towards accelerate. We've been taking investors through that so they understand our thinking and priorities."
Meeting and building relationships with Auckland Airport's shareholders has been a priority for Hurihanganui since she started in the role. The company has a broad share registry, comprising institutional investors from around the globe as well as government and retail investors, many of whom have owned shares in the airport since it listed in 1998, only the fifth airport in the world to be publicly listed. The shareholder base has been relatively stable through COVID.
"We have some very longstanding relationships with shareholders and it's vital to keep the different groups informed of what's happening. We have a comprehensive investor relations program that includes roadshows at results time, as well as one-on-one and group meetings throughout the year. We're actively involved in conferences and events, although less so over the past two years given COVID kept us grounded. These have tended to be virtual.
"Those events are part of a comprehensive communication program to ensure investors are fully informed, not only about what's happening at the airport, but also about what's happening in the industry. We have spent a lot of time updating our stakeholders on the government's COVID settings over the last two years, which have constantly changed."
With the world returning to some level of normalcy, Hurihanganui expects to soon be on the road meeting her overseas shareholders face-to-face for the first time.
"During COVID we spent an enormous amount of time virtually engaging with shareholders. But because I'm new in the role, making connections and forming relationships is really important to me; investor relations is much more than just an information exchange. So, when the timing is right, and as restrictions are lifted, we will shift to a new shareholder engagement program that will involve much more direct contact with investors."
Hurihanganui says Auckland Airport's investors are especially interested in talking about infrastructure themes. This is in light of New York-based Global Infrastructure Partners and IFM Investors' $23.6 billion acquisition of Sydney Airport Corporation, which sees it exit ASX's boards for the moment.
"Infrastructure has been a hot topic. The market is really interested in this space, especially as there are fewer opportunities to get exposure now, which means some will look to change some of their mix of assets. It's still early days, but there's certainly a tremendous amount of interest in infrastructure."
<subhead> A natural advantage
Being located in the far south Pacific gives Kiwis a unique perspective on the world, something they can use to their advantage. Hurihanganui says the tyranny of distance has pros and cons.
"New Zealand is geographically isolated as an island nation. So international connectivity is critical to our country, economy and success. It's also important to keep an open mind about the opportunities available to us as a nation."
The travel sector has come a long way from the early months of the COVID pandemic. Visions of rows of mothballed aircraft were a sad sight. The few planes in the air were cargo and imports and exports increasingly went by sea. Those days are in the past.
Says Hurihanganui: "From a recovery perspective, it is a matter of when, not if. The International Air Transport Association says by 2024, air travel will be back to 2019. Other sources say it will be 2026. So there's still quite a bit of variability in the forecast. The next six months is going to give us a clearer view of what the recovery will looks like."
Against that backdrop, giving shareholders guidance about what the future looks like for Auckland Airport requires a balanced approach. "What we can do is provide certainty with regards to our approach, especially about the progress of the airport's infrastructure program, which was paused with COVID. This includes the triggers required to recommence some of the program's larger commitments. We've worked very hard to take some of the uncertainty out of the picture for investors. They are really clear we have a recovery and accelerate plan we will be following in line with aviation demand recovery."
She says investors are comfortable with the airport's story and future, given the executive team has always been open about COVID's effects on the business. "At the start of the pandemic, Auckland Airport took decisive steps to resize the organisation, after experiencing a 95 per cent drop in international aeronautical activity. That was really tough because that impacted some very good people. We moved early on a NZ$1.2 billion capital raise that created additional liquidity and an extra funding line. That shored up the opportunity to navigate whatever the pandemic was going to create over the last couple of years. It produced a level of comfort and confidence among our investors because they knew we were well positioned."
<subhead> Diversifying operations
Core to Auckland Airport's future is the diversity of its operations, not just its airport. It also derives revenue from its hotels, commercial business parks and retail presence. In the future, this will include a new outlet shopping centre opening in 2024.
"We're focused on maximising our core airport and aeronautical activity, as well making the most of an increasingly diversified portfolio if assets. It's all about keeping all moving parts going in the right direction. Investors want to understand and see how these things connect," says Hurihanganui.
Shareholders are an important group for the airport, but so are a range of other stakeholders. "We are the gateway to New Zealand and we're also an important employer for Auckland. So our stakeholder groups include government agencies, airlines, the community and the mana whenua, which is the local iwi, or Maori stakeholders. We're privileged to play a really important role in the economy and community. We recognise that importance and work very hard to engage and listen to the interests of all of our stakeholders as part of our decision making processes."
Hurihanganui says it's important for the airport to engage with mana whenua in terms of understanding the history of the area, what's important to the people and which priorities are shared.
"We engage early about our thinking, especially when it comes to the development of the land, to ensure we are respecting important elements to our community. Continuing to invest in the South Auckland community through the Auckland Airport Community Trust, which is focused on education and growth, is a very important part of our sustainability strategy, as are the apprenticeships and job skills training we offer to many people in our community. We want to ensure we're a good neighbour and do the right thing by everyone."
https://www2.asx.com.au/blog/listed-magazine/2022/in-the-slipstream