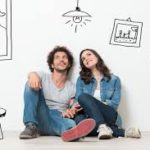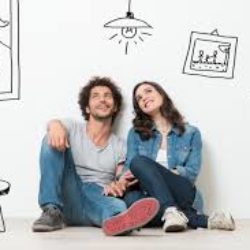 It's an exciting time for Zoe Fox and her fiancé Zach Templeton. As first home buyers, they are right now waiting for the contract on their first home to go unconditional on 9 December – which means both sides are legally obliged to settle the contract by the settlement date. It's been a long journey for the couple, who have been looking for a place to buy close to Brisbane in the Centenary Suburbs, south-west of the city since April.
"We've been going to up to 10 open houses every Saturday and slowly crossing houses off the list," says Fox.
"After doing research, we realised the houses we were looking at were too expensive to get the first home buyer's discount on stamp duty. So we tried to find a house that was under $500,000 to avoid paying stamp duty. We weren't taken seriously by many real estate agents until we made our first offer on a house," she says.
The pair has been looking for a well-kempt property close to Brisbane with a good-sized backyard for their dogs and three bedrooms in which to grow.
"We looked at double-storey houses that needed a bit of work and single-storey houses that didn't need much more than a paint job. We ended up buying a beautiful three-bedroom, low-set, brick house with a big backyard in excellent condition," Fox adds.
The couple has secured a loan with a variable interest rate from one of the big four banks.
Graeme Holm, a mortgage broker with The Infinity Group, has some advice for first home buyers looking for the right loan. "They need to understand how a bank or lender will assess their suitability for a home loan. They are strict about living expenses. They want bank statements in the borrowers' names and will reverse engineer where their after-tax pay is spent."
Alan Yeung, a property consultant with Location Property Group, says it's important to understand any risks from the lender's perspective. "If you're buying in a large complex and the lender has already approved loans to 20 other people in the same complex, it may view your loan application as riskier than an application from someone buying elsewhere."
Fox and Templeton learned many lessons on the path to home ownership. She says if she had her time again, she would have done research earlier into the incentives first home buyers can enjoy.
"We wanted to take advantage of as many of these as possible, while remaining within 20 minutes of the city. This meant we couldn't buy a brand new house and access the associated benefits. It was challenging to find a home valued below $500,000 so we could get the stamp duty discount without going well outside Brisbane."
First home buyers building or buying a new property in Queensland are entitled to a $15,000 grant for properties worth less than $750,000. They also get stamp duty concessions for new and old homes worth under $550,000. Every state offers different benefits and it's important to do research into what your state offers if you're a first home buyer.
Holm says it's important to get out and about to do your research before making an offer on a property, no matter how much you love it. "Spend time in the areas you're looking at, have breakfast at the local cafés and go to dinner in a local restaurant. This will tell you if the area is busy, quiet, struggling or booming. Also take the time to use public transport during peak hours so you know what the commute will be like."
He cautions against only looking at the top line rate when locking in your home loan. "Assess the loan's features. Home loans with attractive rates may offer little flexibility and incur high costs in the event the borrower's circumstances change and they need to pivot in relation to the property and the loan."
Fox's message to other first home buyers is to work out how much you're willing to spend and don't budge.
"People tried to take advantage of us because they thought we were naïve first home buyers. You also can't get too emotionally invested when you make an offer, as this can be used against you. Another house will always come around."
The couple made two other offers before they found their dream home.
"We love our house so much more than the other two houses on which we made offers. By seeing so many places, we learned the value of the houses in the area in which we were looking and were confident with the amount we wanted to offer," she says.