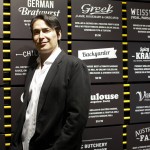 Snag Stand is a new busiess that sells gourmet sausages in buns to stressed out shoppers and business-types. It's a business that provokes a 'why didn't I think of that?' response.
Philip Blanco, who came to Australia in 1996 from the US after rolling out Gloria Jeans stores around the world, including the first Middle Eastern store in Dubai in 1995, came up with the idea for Snag Stand after observing the great Aussie barbie.
He says "when I first came here people would invite me to barbecues and a mandatory item was the sausage. I couldn't understand the attraction to what seemed to me to be a bland, greasy ordinary sausage. But they were everywhere, at school fetes, at Bunnings, and any time sausages were being grilled people were Zombi-like in their emotional reaction – they just had to have one".
At the same time, Blanco observed butchers were staging a quiet sausage revolution, extending the standard array of Aussie sausage from pork, beef and – if the butcher was fancy – Italian, to include gourmet offerings with ingredients like rocket and other herbs.
"Australia is a nation of small business owners but cooked sausages were totally missing from the market – I thought this is an amazing opportunity or I'm completely stupid," says Blanco.
Blanco has his hands in numerous business pies. He's a director of women's clothes retailer Seduce, which is about to open its first store in Dubai. He's also a shareholder and former director of tea retailer T2, which he helped grow into a chain of 22 stores.  He's also involved in the Mad Mex chain of restaurants with his business partner Clovis Young.
Through these enterprises, Blanco has built up a solid professional network within shopping centre conglomerate Westfield. So, after coming up with the concept for Snag Stand, he decided to share his vision when catching up with the director of leasing and a number of other colleagues.
"They wanted to know what my next project would be and I knew they would be a good sounding board, so I did the hat and cane routine and told them all about my idea for Snag Stand. It was so funny, at the end of the presentation I could tell they were thinking "are you kidding us or is this for real?'"
"A couple of them could almost see what I wanted to do, but Australians have grown up with cheap snags and there's a love/contempt relationship with the sausage, so in the end I let it go. I was desperately seeking validation for my idea, but I kept getting divisive reactions," he says.
But one of the Westfield team shared Blanco's vision and when Westfield was developing the food court for its flagship Sydney Pitt Street Mall development he contacted Blanco and wanted Snag Stand to be a part of it.
"They wanted to do something very special with chefs doing food concepts rather than having all the usual suspects and they were looking for things that were unique. At the time I was about to open my Japanese wine bar called SakeSake and I had my hands full, so I didn't want to do it. Then, they got in a food consultant called Future Foods, who gave it the thumbs up and Westfield said they would make it worth my while. So with my business partner Clovis's support we went ahead".
Snag Stand has been open in Westfield Pitt Street Mall since April 2011 and at time of writing, it was selling 3,000 'haute' dogs a week. "We've exceeded our projections by more than 50 per cent," says Blanco.
These are not just any sausage in a bun. Sausages are sourced from only the best butchers, for example Rodriguez Bros, AC Butchery and Pino's. Even the bread has been specially sourced; Blanco selected three different buns for the sausages (a brioche, a rustic and a poppy seed bun) from a seventh-generation Israeli baker.
Although the second Snag Stand will open in Melbourne at Melbourne Central in mid-September, Blanco says there are no plans to franchise the store. "We're all about maintaining a premium product and we will never be willing to compromise on quality," he says.
http://www.smh.com.au/small-business/entrepreneur/entrepreneur-no-silly-sausage-20110822-1j6ba.html
As for other locations, Blanco says he's considering his options. "It's a step at a time and we're committed to a premium sites strategy, but yes, there are a few other locations we're considering at the moment," he says.