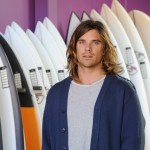 Elegant business planning and bleeding edge technology are not generally the first things that come to mind when thinking about the surf industry, but that's exactly what Sydney-based surfboard shaper Hayden Cox has pulled off.
Cox is the founder of Haydenshapes Surfboards on Sydney's Northern Beaches and the inventor of the FiberFlex technology that is currently making waves in the global surfing industry.
It's hard to overestimate the way FiberFlex is changing surfboards, the design for which has long been dominated by foam 'blanks' with a wooden core known as a stringer that provides the board's integrity.
Although FiberFlex boards are also made of foam, their strength comes from a parabolic carbon fibre frame that hugs the rail of the board and its epoxy laminate. The result is a stronger, faster, more responsive board.
Cox has recently signed a deal with the world's largest distributor of surfboards, Global Surf Industries, which will see his innovative surfboard technology sold in 58 countries around the world.
Not a bad result for someone who started his career as a 15-year-old work experience shaper in a surfboard factory in Sydney's beachside suburb of Mona Vale.
Cox got his first break when the owner of the factory he was doing work experience with realised he wasn't there as part of an organised work experience program. "He was blown away I was working for free in my school holidays, and he helped me shape my first [surfboard] blank – he did one side and I did the other".
After renting a shaping bay in high school to make boards for mates and a stint in Bali shaping boards for tourists Cox took the leap and borrowed $20,000 from a friend to set up his own surfboard factory.
This was the first step in establishing his Haydenshapes brand. But Cox soon realised focusing solely on that path wouldn't allow him to sell to every surfer, so he came up with the FiberFlex concept so he could market his technology more widely.
"The brand and the technology can be custom made locally or mass produced offshore, offering a high quality product and good margins," he explains.
Cox laughs when compared to Simon Anderson, the shaper who pioneered the three-fin thruster design that now dominates the surfboard market. "Simon pushed the boundaries when designing and surfing the thruster, and I'm trying to do the same with FiberFlex," he says. Anderson is famous for not patenting his design, which is now used by almost every other surfboard maker in the world.
Although Cox says he has a "zero dollar marketing budget", he has been able to create a buzz around his brands in magazines as world-class surfers such as Josh Kerr, Dane Reynolds and Craig Anderson have been pictured riding boards made with his technology, helping to create consumer demand.
"I shaped the first-ever FiberFlex board for Tom Carroll. He is an amazing person to work with when it comes to surfboard design".
"But it's really all about plugging away, speaking to retailers and getting boards to shapers for their team riders. There's also really good word of mouth around our boards," he says, explaining that he was able to start building a name in the US market thanks to a well-connected contact who was able to introduce him to the major players in the US.
Cox concedes the financial crisis was a tough period, but he has developed ways to bring cash into the business as fast as possible. For example, customers pay upfront for custom-made surfboards, rather than when they are finished, in return for guaranteed manufacturing in two weeks.
Cox's boards are manufactured in Australia, Japan, the US and Thailand. The partnership with Global Surf Industries has enabled Cox to manufacture in Thailand and supply the global economy from one manufacturing source. "We also offer locally-made custom boards through shapers around the world".
His ability to sell the FibreFlex technology to shapers means that Cox can target all surfers in the marketplace. "But really, it's all about having fun – there's just something about being in the salt water that makes you happy. I make surfboards that are fun to ride," he says.
Cox is featured in a new online book called In Hindsight published by Nokia that explores the stories of people building businesses.
http://www.smh.com.au/small-business/entrepreneur/surfboard-shaper-goes-global-20110630-1gs8f.html