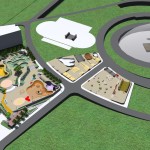 Australian Brad Shaw, who runs a local business called Sk8scapes, is managing the development, in conjunction with his Chinese partner, Eddie Liao, through their joint venture B&E Actionsports. The business will take over day-to-day management of the park once construction is complete.
"There are 20-storey dormitory apartment buildings as far as the eye can see around the construction site," says Shaw, who has been building skate parks around the world for 35 years.
When the skate park is finished, slated for later this year, it will be the main action sports hub in southern China.
Brad Shaw is behind the massive skate park development.
Commenting on what this development means for him as a business opportunity, Shaw says, "I can see a hundred of these parks being built around China."
While Shaw has been fortunate to build a business in the skateboard industry outside Australia, others have not been so lucky. The local industry, especially skateboard manufacturers, has struggled to compete against the flood of imported boards that have trashed the home-grown market.
There used to be a number of local brands competing in the domestic market. But it has become uneconomic to produce skateboard blanks in Australia, which means smaller outfits have had to import from overseas and then customise the design here.
"It's all about volume," says Shaw. "You have to get them from the US or China and you need to buy 500 or 1,000 units, which is quite a big number for many local skate businesses," he says.
One veteran business of the skate boarding scene that is doing it tough is Omni Boards, run by Cary Pogson, who has been manufacturing skateboards from Ulladulla in NSW since the 1980s.
"Now you get $20 less for a board than you did in the '80s. We'd get $54 a board then, now it's $25 to $27 a board. Business slowed after 2000 when imports started coming in from China and it became harder to compete with boards made in the US. I employed eight people in the mid- to late-80s; by 2000 I only employed one," says Pogson, who now runs the business by himself and largely supplies boards to other brands.
"I'm the last person in Australia to actually make boards. Omni is the second oldest [local] skateboard brand, Hardcore is the oldest," he says.
Skateboarding has had somewhat of a resurgence in recent years as longer boards – the domain of older people who used to ride skateboards as children – have become popular. There has also been a fad for Penny Skateboards – tiny, brightly coloured plastic boards ridden by young kids and hipsters – sales of which have kept skateboard retailers chugging along.
But Pogson says there's not as much turnover of long skateboards compared to shorter boards, which has hurt the industry's dynamics.
"A good street skater [riding a short board] might go through a board a week, or they would need a new set wheels, but a longboard might last for years," he says, adding that there is also up to 20 different sizes of longboard of various widths and shapes, which makes stocking them an expensive investment for a retailer.
David Robertson, who runs Sydney's Basement Skate – which bills itself as the largest longboard skateboard shop in the southern hemisphere – says the depreciation of the currency has been a positive for the industry. It has meant it's no longer as attractive for customers to buy online from US retailers.
"The dollar was killing us. Now it's eased off US stores have become less competitive, which has taken the heat off," Robertson says.
Despite straightened times for the industry, Pogson still wants to support grassroots Aussie skateboard businesses. He says over the years he's probably seen 200 different labels come and go. "Kids still want to start their own company and do their own thing and that's what I'm trying to support."
Robertson is similarly bullish about the local market. He says more people skate now than ever before. Although there was a dip in demand from the early 90s until five years ago, longboarding has helped revitalise the industry.
"There have been tough times over the past few years, as there has been in any industry. But kids are starting to realise skate shops are disappearing and customers are starting to come back."
Read more: http://www.smh.com.au/small-business/growing/aussie-builds-worlds-largest-skateboard-park-20130920-2u40l.html#ixzz2fyRZbbeK