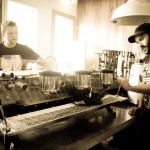 I've stopped going to restaurants that won't take a booking. I'm just not the sort of person who's willing to stand in line for an hour or more, as is the case at some popular establishments, for the privilege to be seated at one of their tables. Nor am I happy to rock up early at 6pm so I don't have to spend said hour in the queue. My view is if you want my business, take my booking. Otherwise I'll go elsewhere.
But having had a lengthy chat with restaurateur and Vue de Monde alumnus, Dennis Ferreira, whose current business venture is Melbourne's Hammer & Tong 412, I now understand why it makes sense to have a no-booking policy.
Dennis puts the nightly no-show figure – that is, people who book but don't turn up – at between 10 and 15 per cent. That's an amazingly high figure. Are we really so rude and have such little respect for people who run restaurants that we can't make a quick phone call to let the establishment know we're not coming? I guess that explains why whenever I do call to cancel a booking, the staff are routinely effusive with gratitude about the fact I've bothered.
I think if we understood the pressure no-shows place on a restaurant, we'd probably be more inclined to let them know we're not coming.
"I know people who book a few venues and decide which one to go to on the night," explains Dennis, who takes bookings for dinner but not for weekend brunches.
"People think if they cancel it doesn't impact us, but we set a table aside for a booking up to 45 minutes before the party arrives. So to have the table not show without notice, on top of having declined bookings that could have sat at the table, is frustrating when you could have turned the table over three or four times."
So why not have a cancellation fee policy for bookings? Dennis says it does act as a deterrent; if there's money involved, people will generally honour their bookings. But the majority of people don't understand cancellation fees and the gravity of cancellations. He says it's a bit "out of mind, out of sight" – if people can't see the empty table, they don't care about the fact a series of no-shows can literally break a business.
According to Ferreira, having a walk-in-only policy also allows him to put a lot more business through the restaurant. He says a walk-in policy will allow a restaurant to turn tables over four or five times across the seven or eight hours it's open each day. Taking bookings can halve the number of guests a noshery can serve.
I questioned Dennis on how he works out a staff roster and orders the right amount of food if he doesn't know how many guests will turn up on any given day. He says the idea is to go with a skeleton crew of your A-team staff, so you know they can ramp things up if things get busy.
"With food, you run with what you'll need for a full house. We're open five nights so it's easy to work out what you'll need across the week. What's harder is when you put staff on then have a large table cancel and a couple of smaller tables not show. That's why bookings can work against you."
As to whether he's worried he'll miss out on bookings if he moves to a walk-in only policy for dinner, Dennis says he believes people don't mind standing in line for a short period to eat.
I'm not one of those people, but I know plenty who are. People love being able to say they've been to the hottest restaurant in town and they don't care if they turn up at 8pm and aren't seated until 10pm.
"It's really about trying to find the path of least resistance. And hopefully the no-show issue will get more publicity, so people get a better understanding about how empty seats impact a restaurant."
Dennis, your wish is my command.
Read more here: http://www.smh.com.au/small-business/trends/blogs/the-big-idea/why-wont-restaurants-take-bookings-anymore-20130903-2t25r.html