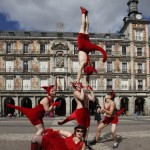 Iconic circus company Circus Oz has embarked on an intriguing and thoughtful social media strategy other creative businesses should consider. It has taken a long-term perspective of building relationships through social media and plans to make the most of its extensive, engaging video and photo library as it builds its online presence.
The company has recently started a three-year project in conjunction with RMIT to digitise the reams and reams of footage it has captured since the circus was born in 1978. The project is an extension of the success Circus Oz has had over a number of years with its social media activities.
It has had a Twitter account for around two years as well as a Facebook page, and has been posting videos on You Tube for some time and run photo competitions using Flickr. Circus Oz also encourages audiences to tweet from shows and invites prominent members of the Twitter community to opening nights for a number of years.
Marketing manager Ebony Bott says "Circus Oz has been really good at creating content; we've got all this back footage and there are so many stories to tell."
Alongside this project Circus Oz is developing its social media strategy so that when the digitisation project is launched, the business will already have developed a strong relationship with a captive online audience.
"Initially we're looking at further developing our Facebook and Twitter profile to build our relationships and share our personality. And if we're successful at building relationships, that will ultimately drive ticket sales," explains Bott.
Circus Oz fans love finding out what goes on behind the scenes, so some of the content it is sharing through social networking includes images from the 2011 photoshoot of its new show Steampowered. "We've got some amazing gadgets and costumes and the audience loves to see what goes on behind the scenes," she says.
At the core of the strategy is a focus on the audience. Bott says "with social media, it's all about the people who are part of the community and involving them in the process. We also have a strategy that underpins the campaign – it's not about saying 'what should we post today?'"
As an example of involving the audience, Bott says "one of our Steampowered characters is a Young Einstein-type who is obsessed with anything that spins, be it a bicycle wheel or a lazy Susan at the local Chinese restaurant – you wouldn't be surprised to find him in your washing machine. So we're calling on the audience to upload photos of images of spinning things to inspire his next act."
Circus Oz also has an international following and tours globally, so to engage with its international audience it is creating a narrative on Twitter about life on the road. "We might challenge the cast to find someone named Bob in every town they visit and ask him a specific question, and then use the responses in our Twitter feed," says Bott, who stresses that at this stage, Circus Oz's future social media strategy is still very much a work in progress.
Deloitte Digital CEO Peter Williams, who is on the board of Circus Oz and who also provides the company with informal advice about its social media strategy, says the beauty of social networking for small businesses is that "it doesn't have to cost a lot of money. It's not about spending a fortune on hardware or software or production; it's about great engagement with your audience. it's simple and easy to use your iPhone to take a one minute video that you can post on your Facebook page."
According to Williams, it's also important to combine online and offline channels to get the most out of your marketing program. "A skateboarding shop, for example, can use its physical presence to advertise its Facebook site, which is a great way to reinforce your online profile."
Bott agrees successful social networking is all about constantly reinforcing your presence with creative content to help cement relationships with the audience. "By the time we launch our digital archive project we will hopefully have developed a really strong online following and reputation we can use to create interest in the project; it's a really exciting time for Circus Oz."
http://www.smh.com.au/small-business/managing/circus-oz-puts-the-magic-into-social-media-20110506-1eb3r.html