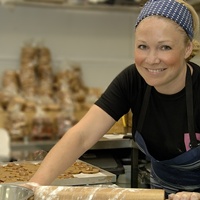 This time last year, Tahnee Walters, founder of Spotted Cow Cookies, was pondering how to take on the more established cafe cookie brands such as Byron Bay Cookies and the Sydney Cookie Co.
Flash forward a year and Walters is now supplying cookies to 80 Virgin Blue planes, doubling her business overnight.
It's an achievement that has come about through serendipity and hard work, and has required Walters to put considerable thought into how best to scale up her business.
Intriguingly, Spotted Cow Cookies didn't tender for the airline contract. "They approached me," says Walters, who believes her cookies were seen in one of the 200 cafes she supplies around Sydney, or in one of the cafes she supplies in other states, by someone in Virgin Blue's management team.
"They contacted me last August wanting samples. We sent them a box of pre-packaged cookies, which we had only introduced into the range in July because it's so expensive to distribute branded packaging," she says.
Indeed, the investment required in packaging and a machine that wraps the product led Walters to sell a portion of the business to raise the required funds. Her investor and now business partner is her former bookkeeper, which can only be a vote of confidence in the business.
"She has as much passion for the business as I do – it's lucky we found each other," Walters says.
Virgin Blue contacted Spotted Cow Cookies when it was developing its new Luke Mangan-designed menu. It was four months from the initial point of contact until Virgin Blue confirmed it wanted Spotted Cow Cookies as part of its menu and placed its first order in February this year.
As a result of its relationship with Virgin Blue, Walters has had to dramatically scale up the business, although the infrastructure was already in place for her to do this, thanks to the investment she was able to make as a result of the injection of funds her new business partner brought to the table.
She says the fact that she was able to scale up the business in January, traditionally a quiet time for the business, also helped her get ready to service the new contract.
"We used January as a buffer to start implementing new systems, which are pretty basic really. We don't use computers and everything is controlled by my supervisor and me. We manage production three to four days ahead because the facility doesn't allow us to work a month ahead. Plus one of the reasons I started the business was to make fresh produce, which is why we manufacture to order," says Walters.
"Before we would make 2000 choc chunk cookies in a run and really it doesn't take much more effort to do three times that," she says, adding that " we used to do 12,000 cookies a week, now we do 25,000 to 30,000 – which is a big jump."
Although the business has doubled in size, Walters says because she's only dealing with one additional customer, albeit a large one, it's manageable.
"Before I started the business I had no manufacturing experience – which means I had no pre-conceived ideas. I just try things and if they work, I run with it. I had three gentlemen come in the other day who are experts in manufacturing – they said I should give myself credit because I'm doing well just following my instincts."
Walters' advice to other small business owners is to "listen to the advice everyone wants to give you – but realise you don't have to take it. I was part of the Commonwealth Bank's Women in Focus conference last year, where there were 40 of us from different industries sharing stories. It made me realise that although we operate in different areas, everyone experiences similar things. You can learn so much from other people and it can get lonely in small business. Which is why it's so important to reach out and find out what other small business owners are thinking and doing."
Here's the link: http://www.smh.com.au/small-business/my-business-success/spotted-cow-cookies-takes-off-20110325-1c9ch.html