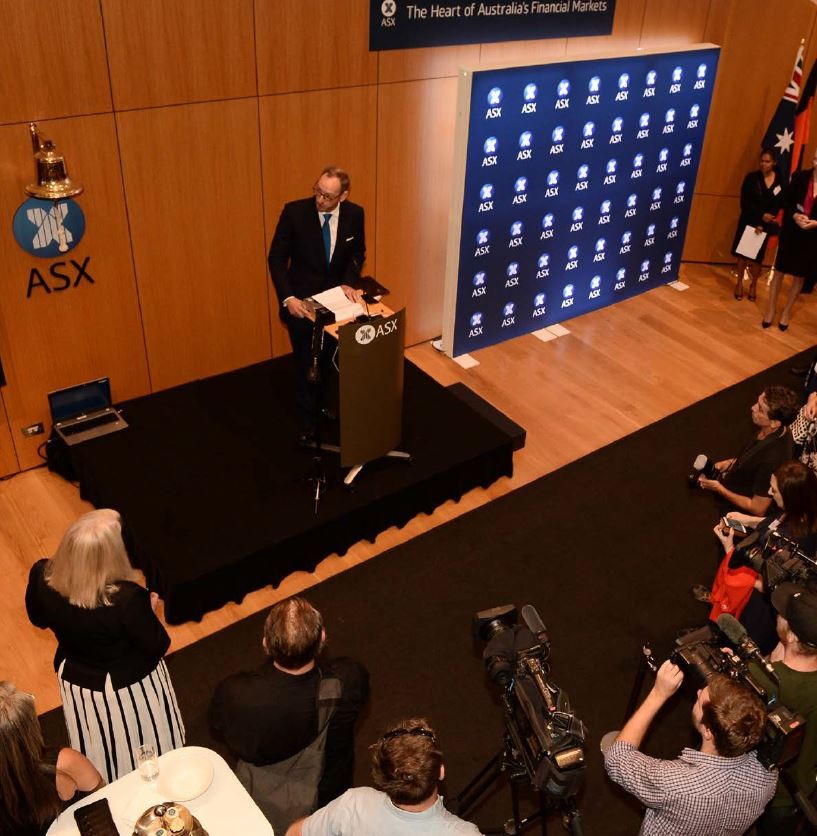 In February ASX's aspiration to create a technology benchmark was realised with the launch of the S&P/ASX All Technology Index, which has the code XTX. The index recognises a coming of age for the local technology sector.
At the launch event, Max Cunningham, ASX's executive general manager listings, issuer services and investment products, recognised the role incubators, auditors, law firms, investment bankers, stock brokers and fund managers play bringing tech companies to market. He also acknowledged S&P Dow Jones Indices' assistance in helping to formulate the index.
Cunningham noted the benefits tech companies will enjoy as a result of the index's formation. "ASX is a genuine home for technology companies. It's a place where they can access a plentiful supply of capital, institutional investors and a market valuation to support entrepreneurship and innovation."
More technology stocks have listed on ASX in the last five years than any other sector. There are now 200 tech companies listed on the bourse, with those in the index the cream of the tech sector. These include the 'WAAAX' shares – WiseTech, Afterpay Altium, Appen and Xero. The 'All Tech' index, which includes three Kiwi companies, two US companies and an Irish company, launched in February 2020 with 46 members and a combined market cap of more $100 billion. The quartlerly rebalance allows regular entry points for new and growing companies.
Commenting on the index's launch, Cunningham noted it had been driven by a desire to keep capital in the local market and provide greater diversity and access to growth stocks to local investors. "This is an exciting time to build tech companies in Australia, an exciting time to begin investment in those companies and an exciting time for ASX."
Companies must have a minimum float-adjusted market capitalisation of $120 million to be included in the All Tech index, which will be rebalanced quarterly. This will facilitate rapid entry into the index for tech companies that are already listed on ASX that meet the entry benchmark, as well as newly listed businesses.
The index is a conduit for tech companies to access a growing pool of local tech investors, in addition to Australia's $3 trillion superannuation pool, the fourth-largest pension system in the world.
By connecting them to investors, the index will also help deliver capital to local tech companies to assist them to continue to develop new technologies. It also creates more focus on the technology industry, more opportunities for investment and more potential for emerging businesses to access capital.
An exchange-traded fund has already been launched that is benchmarked to the index, with BetaShares' S&P/ASX All Technology ETF hitting the bourse in early March. BetaShares' co-founder and CEO Alex Vynokur believes the index is going to provide more opportunity for long-term capital growth for tech businesses. "It will also enhance diversification in Australian portfolios."
Backing the index
Industry leaders came out in support of the new All Tech index in a video recorded to celebrate the launch, with chiefs of ASX companies thrilled about the new benchmark. CEO of digital accounting software platform Xero, Steve Vamos, said he welcomes the collaboration between S&P and the ASX around the All Tech index. "It creates more focus on technology and more opportunities for investors and emerging businesses, allowing companies in the sector to gain access to capital."

Meanwhile, Afterpay (ASX:APT) CEO Anthony Eisen is excited about the benefits it will deliver to companies. "It will provide definition to something that is growing very strongly. This is a real opportunity for Australia to become an export industry in a lot of tech areas."
Importantly, WiseTech (ASX:WTC) CEO Richard White says a tech ecosystem is starting to form here, which the index will help support. "We need to push that ecosystem and get founders, entrepreneurs, investors, government and everybody involved in understanding how powerful and how important for the Australian economy the tech sector is going to be."
From the investor perspective, Bailador Technology Investments' (ASX:BTI) co-founder and managing partner Paul Wilson notes there's growing demand from Australian investors for technology exposure. "A lot of that's been fuelled by the success of some of the bigger names. This has shown the returns really can be premium if you get it right.
We've seen the global success of a number of companies now, which has a trickle-down effect right throughout the ecosystem. This builds confidence from investors. The Australian tech sector has never been in a better place."
Fidelity International portfolio manager Kate Howitt agrees the market will benefit from having a technology index. "It will be easier to identify all of these similar tech stocks across the market, regardless of the underlying industry. A range of opportunities arise, such as different product structures, so the end investors can get exposure to the underlying companies."
The technology index will create a virtuous circle, according to former Wilson HTM head of research Mark Bryan. "We'll get high qualities coming through that will attract more investments, and in due course that will bring other high quality companies to the index."
Case study: Ringing the bell
Commenting on the launch of the index, Minister for Industry, Science and Technology, The Hon Karen Andrews MP, noted Australia's healthy tech ecosystem. Andrews rang the bell on the morning the index was launched, 21 February.
"The companies listed on the new index reach across our economy, from logistics to finance to artificial intelligence. In a little over five years, there have been more than 100 ASX tech initial public offerings, and in 2019 seven of the 10 highest performing stocks were technology companies," said Andrews.
"Tech contributes $172 billion to our economy and has the potential to generate an additional $50 billion per year. It's Australia's sixth largest sector and employs over 720,000 Australians," she said.
Andrews noted the federal government is committed to unlocking the potential of technology. "The prime minister has declared he wants Australia to be a leading digital economy by 2030. Achieving that ambitious goal means we need more investment in innovative businesses. We need to see our traditional businesses use home-grown technology to transform and adapt, and we need to see more Australian businesses go global into new markets.
"Technology businesses that list, invest and base themselves in Australia will help drive our national competitiveness. Businesses like WiseTech, Appen, Afterpay, Altium, and Xero show tech companies can do more than exist in Australia. They can thrive."
COVID-19 notwithstanding, Andrews noted Australia has a strong pipeline of smaller tech companies considering how and where to raise capital. "An index creates an opportunity for them to access later stage capital, raise their profile, and fuel their growth. An index also complements the growing number of venture funds in Australia and strong levels of venture capital, providing an alternate source of finance for new and expanding technology companies."
The All Tech index will help to increase the tech sector's visibility and make it easier to invest in tech companies and share in their success. It's testament to the ingenuity, grit and perseverance of the local tech sector.
Case study: Appen (ASX:APX) going virtual
Artificial intelligence (AI) and machine learning business Appen's investor relations strategy will be a little different in 2020. Its focus is on reporting season, when the CEO, CFO and strategy manager do a roadshow to Sydney, Melbourne and overseas, with Hong Kong a focus. This year, meetings will be virtual rather than in- person. A key part of the program is the 'data day' the business holds for investors before its AGM, involving presentations from Appen's experts. "We take people through the technology and its applications and where Appen fits in the value chain," says non-executive chairman Chris Vonwiller.
Institutional investors are now well informed about the business, with eight analysts covering the stock. "This has built a real depth of coverage of what we do."
It was a different story when Appen completed its IPO in 2015, at a time when AI was a new field, moving quickly, and not as well understood as it is now. "Five years on, the level of understanding and sophistication of the analysts and the major institutions that invest in us has significantly improved. Part of our strategy is to keep them informed," he adds. Vonwiller says the All Tech index will help raise the profile of the local tech sector at a time when investors are very interested in technology.
"The performance of tech stocks is diverging from other segments of the market; they are not being driven so much by the underlying movement of the market up and down. It's a very different situation compared to the retail or travel sectors. So having an index at this point is especially useful."
Vonwiller expects the index may help Appen connect to new investors. "They can look at the index's performance overall, individual stocks or at funds that offer tech exposure. Potentially, it will allow capital raising to occur more smoothly. We've done two major acquisitions in the last three years and been to market to raise new capital. Having better informed investors about the company and technology generally has been a plus. So the tech index gives us a support platform to build on and should help with future capital raisings."
Case study: LiveTiles' (ASX:LVT) consistent investor communication the key
As a global leader in intranet software, LiveTiles' clients often have hundreds of thousands of employees. They include Nike, Pepsi and the US Marines.
The tech star was front and centre as businesses transitioned to remote working at the start of the corona virus pandemic, providing a technology platform, where employees can access information, collaborate and communicate 24/7 wherever they are. Despite only being four years old, it already generates more than $50 million in recurring revenue.
CEO Karl Redenbach says the firm is focused on consistent investor communication. He says it's important to give them access to all the information they need when they need it.
"This is even more critical now we have US investors. American investors want to invest on ASX and that's a great opportunity for us. A lot of those investors can't be in our time zone. So it's really important we use technology to make sure they can access our information 24/7," he says.
Redenbach notes the All Tech Index also gives the business visibility in the investment community. "We're now one of the fastest growing software-as-a-service companies globally, ever. ASX has really helped fuel that growth."
LiveTiles has completed six capital raising rounds on ASX, generating about $160 million. Says Redenbach: "From our perspective, it's about making sure people understand what we do as a business. Our investors appreciate the world is changing fast."
He says since the launch of the All Tech index, some investors LiveTiles would not have otherwise approached have noticed the business and are looking at its story.
"So from our perspective, this has been a great opportunity to get exposure to a new set of investors."
Redenbach is delighted to be among the initial cohort of companies on the ASX Tech Index.
"They are fantastic companies, and for us to be on the same list and index as those big companies provides a great opportunity. We're now part of a movement in Australia that really recognises digital and tech will form a big part of the market and already does. Investors are generally excited about what this means."
Case study: Redbubble (ASX:RBL) investor relations helps achieve fair value
Online art product marketplace Redbubble is one of the tech stars included in the new All Tech index. Chief of Staff, Louise Lambeth, explains the company's investor relations strategy is all about educating the market, reducing volatility and achieving fair value for the stock. "We have also made progress in increasing liquidity and continuing to attract institutions to the register."
Lambeth says as the index gains momentum, Redbubble will redouble its efforts communicating effectively with a broader and more diverse base of investors. For example, the potential addition of more passive investors to the register will be a new element to be evaluated.
"We believe the index will become a comprehensive measure of technology companies listed on ASX."
Lambeth says Redbubble's inclusion should add to the stock's liquidity and trading interest, which will help generate new interest in the stock, particularly from institutional investors.
"Being included in the index confirms Redbubble's position as a leading Australian technology company, which has a positive flow on to the investment community, as well as other stakeholders."
She says the business is excited about the All Tech index. "This is a good opportunity to recognise and support the budding tech sector emerging in Australia and on ASX. There is the start of an ecosystem and community here, and we hope the index will play an important role in ensuring it continues to grow and flourish."
This story first appeared in Listed@ASX