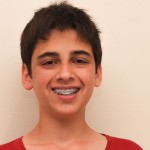 One of the best things about my job is the opportunity it gives me to meet young, inspiring business people about to set the world on fire. So this week, I'm going to introduce you to two very young entrepreneurs, one still in school and one just out of school. Talking to them, I was amazed howarticulate, intelligent and knowledgeable they are, far more so than I was at their age.
Nathan Feiglin is a 16-year-old entrepreneur currently working on a social media e-commerce start-up, Sailr. He sees it as a competitor to eBay and an improvement on the eBay platform.
"It's a very early-stage venture; I started it in January this year. Sailr is a social network and a really simple way to sell online. You can sell something as easily as you can post on Instagram or send a tweet," he says.
Feiglin says platforms such as eBay have taken the fun out of selling. "They have too many menus. What I'm offering is all the features you need on a site to sell something, without making it a tedious process."
Despite his young age, Sailr isn't Feiglin's first venture. He previously worked on a start-up, the idea for which was for big companies to lease their unused office space to budding entrepreneurs.
But it hit a snag when the businesses he approached couldn't get around their security concerns to make it fly – which is their loss. Imagine if a big bank or telco could make this happen and have smart entrepreneurs in their office, helping to feed the creative, commercial spirit?
Another entrepreneur is 19-year-old Matthew Jones, the managing director of AppBox Developments. He has built an app called Sharewatch, which is based on an algorithm that gives share traders access to share prices faster than they can get them through a web browser.
Sharewatch is his only commercially available app, but Jones has developed a number of other apps, which right now are languishing on his hard drive, as he doesn't feel they are ready to be released.
An example is a scientific calculator with more functions than a normal scientific calculator. "I just didn't have the time to iron out the bugs and I didn't want to release software that was not of the highest possible quality," says Jones.
You can find Sharewatch at the Apple Store and it's free. Jones did trial a version people could buy for 99 cents in tandem with a free version that also showed ads, but wasn't happy with the version with ads. Now just the free, no-ad version is available.
Jones says he has an American investor on board, who has pledged at least $1500 to fund the redesign of the app in exchange for a stake in the business. So far, the app has been downloaded 2500 times.
If a study conducted by consumer research firm Blaze Research is right, Jones and Feiglin will belong to a generation of entrepreneurs.
Blaze principal Sara Garcia says her work shows Gen Z – those born between 1996 and 2010 – are "individuals in search of meaningful experiences. This means they will row their own boats."
"With Gen X as parents, they've been brought up to be sceptical and cynical and distrust big business and institutions. Their parents also taught and showed them the value of going it alone. Gen X was the first generation of entrepreneurs. So Gen Z have seen it work; they've grown up with it," says Garcia.
She says this generation of entrepreneurs will have a different way of working. "If there's one thing they are anxious about it's being tied down to doing one thing." She says this might lead to "a state of multi-entrepreneurialism".
I asked Jones and Feiglin if they felt they were more sceptical than previous generations. Said Jones: "I don't know if we're more sceptical, but I think we have a more calculated way of doing business; we're able to calculate whether it's worth taking a risk. But we're probably more sceptical of consumer markets and wider society."
Feiglin agrees his generation doesn't take what the big brands say at face value. "We use Google to verify product claims, rather than relying on brand messaging."
So what's next for this pair of budding entrepreneurs?
Jones is spending the year working on his business, before going to Sydney University next year.
Feiglin, who is in year 11, doesn't yet know what he's going to do after school. He's not wedded to the idea of university. He only sees value in tertiary education if it leads to a specific job or career or if it can support his entrepreneurial endeavours.
"I certainly don't want to get stuck in a career, then have a family that I have to support and find that my scope for change is limited. I don't want to end up spending 40 years in a career doing something I don't like. I would much rather run my own business and make my own life."
I'm fascinated to see what becomes of this talented pair. I see big things for them both.
Read more: http://www.smh.com.au/small-business/trends/blogs/the-big-idea/meet-our-newest-entrepreneurs-20140417-36tr3.html#ixzz30Fo9Jbne