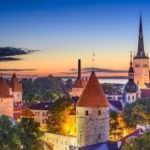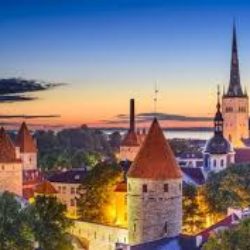 When you think of Estonia – which in itself is a stretch – you probably don't think of it as one of the most advanced digital nations on earth.
Twenty years ago the country, which was once part of the former Soviet Union, didn't even have the internet.
It's subsequently played catch-up with the rest of the world big time. The bulk of public services such as tax, health records and vehicle registration services are performed online.
An e-residency program is an important component of Estonia's digitisation process. Any entrepreneur – that means people who are not citizens of Estonia – can apply for e-residency. All you need to do is supply ID documents and a mission statement about your start-up, as well as credit card details, to apply.
People who are successful receive a government-issued ID from a European Union nation, which acts as a foothold for a business's wider expansion across the continent.
ProofCV is one emerging business that has taken advantage of the opportunities Estonia offers to digital firms.
The start-up has blockchain-based technology that allows people to upload and verify documents used to vet their experience as a job candidate.
The business has specific target markets in its sights, including the aviation and medical sectors, industries in which it is essential people's credentials are validated.
Founders Ray Chow-Toun and Frederic Verin say the technology gives prospective employers confidence candidate documents are genuine.
"This goes to the little white lies people tell about their skills or the dates they have worked all the way to someone to faking diplomas or work experience. So we're addressing the significant level of fraud in the job market," says Verin.
He says the digital model they have developed is a cheaper and more efficient way of checking documents compared to existing manual, paper-based systems.
But the token-based nature of the business model is one its most interesting features.
The activities on the platform require a token, which act as currency with value that can be exchanged between users on the platform.
For instance people who validate a candidate's credentials may receive a token. Candidates are incentivised to use the platform because they are looking for a job.
During an initial trial period each new candidate that uses the platform will receive a credit. CVProof earns commission on each transaction.
"This is the new world," says Chow-Toun, who believes this model will become commonplace in the new digital world.
So far, Chow-Toun and Verin say they have raised US$150,000 in seed funding to develop a minimum viable product. On 1 March they will launch an initial coin offering to raise up to US$29 million.
"This starts the machine," Chow-Toun says, explaining that if the business raises US$10 million, almost US$4 million will be allocated as credit for new users. He says CVProof needs one million-plus users for the system to break even.
"Other revenue streams kick in at a certain point, mainly advertising," Verin adds.
He says in the next three years the team will focus on acquiring the largest possible user base, which will mean most funds the business is able to raise will be directed towards marketing.
Verin says it made sense to build an association with Estonia because of the nation's focus on digital records. Every citizen has a digital record and electronic signatures are the norm.
"It's a small nation but it is five years ahead of the rest of the world," he says.
CVProof is part of Estonia's e-residency program and Verin became one of the first e-residents in 2014.
"We are using our Estonian network to promote CVProof because what we're doing is in line with what they want to do," says Verin.
"They have helped us find our legal advisers and set up the business," he adds.
It's a novel way of attracting exciting news businesses – and an approach from which Australia could learn.