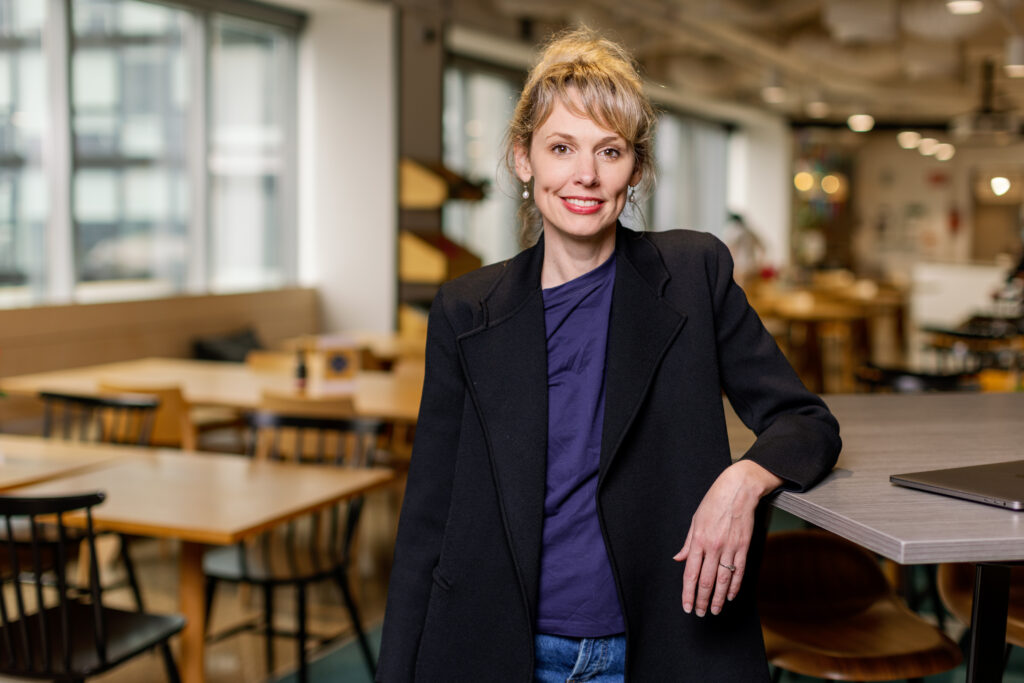 One of the best things about the three tech leaders interviewed for this story is the unusual paths they took to arrive in their role. None of them studied technology, programming or computer science to achieve leadership positions in their companies. Rather, their expertise is in communication, marketing and leadership.
Workplace software-as-a-service leader Atlassian's chief of staff Amy Glancey says her ability to be comfortable in ambiguity helps her be successful in her role supporting co-CEOs, Mike Cannon-Brookes and Scott Farquhar.
Joining the company in 2016 in the director of communication role before moving into her current position two years later, Glancey wasn't initially sure Altassian was the right fit for her. She had previously worked in consumer and government positions and wasn't immediately sure about working in a SaaS enterprise tech company.
"I saw Mike and Scott had an opinion, were anti-establishment and bold and courageous in how they spoke about the tech community and their role in it. It was a really exciting opportunity to work with two young tech founders, who wanted to make a difference.
"I found my home in tech, particularly at Atlassian. This environment really fosters smart, dynamic people, who can bring their full selves to their work. You don't have to be a certain age to get to a certain role. You don't have to dress a certain way. I flourish in this environment."
One of Glancey's mottos is: the magic happens outside your comfort zone. "When you get really comfortable and you know exactly what you're doing and everything's intuitive, it usually means you're not learning. I have always tried to harness that uncomfortable feeling, that anxiety that comes when you are in over your head. I've always tried to embrace uncertainty and recognise the feeling and know that's when I've done some of my best work."
Today, aside from her day-to-day work at Atlassian, Glancey's role involves supporting Cannon-Brookes' and Farquhar's family offices, property acquisitions and political lobbying.
"My number one goal is to drive the CEOs' agendas, so their agenda is my agenda. I keep them aligned, see where the gaps are and make sure the executive team is humming."
Glancey has been instrumental in Atlassian's involvement in Sydney's new technology precinct, Tech central. She's also the 'spiritual leader' of Atlassian's 150-strong leadership group and responsible for organising the annual leadership conference.
"Last year we pivoted to a completely remote virtual format, a TEDx-inspired event. This year's event is in August and we're blending synchronous sessions with asynchronous sessions. Everything's in podcast format and people can walk and listen.
"The other big thing on my plate is launching the company's strategy to our employees. My job is making the strategic content digestible to 8,000 Atlassians, using the founder's voice to amplify that, to create a moment around it. So that's another big piece of my agenda."
Glancey's message to others who wish to be successful in tech is to be authentic. "Show up with your full intuition, intellect and emotional intelligence. That's when you really shine and bring value. When you fight that you bring a shadow version of yourself to the role, which is. Be unapologetic."
Naomi Shepherd, group industry director Meta, always had a penchant for media, marketing and technology. "I've lived in the US, the UK and here in Oz. And I've taken lots of lessons from some of the best and some of the worst leaders I've worked alongside, and really developed a style that works for me and aims to get the very best out of others. The common theme across my career is being really open to opportunities."
Shepherd names unconscious bias as one of the biggest challenges she has had to overcome. "I remember going for a management role at a point in my career and I'd just had one of my three children. I was asked in the interview, 'How are you going to cope with the travel, the demands of the role, as a mother?' I politely inquired if the male candidate who was also going for the role, and who was a father, was being asked the same question. Look, we all have biases. Part of solving that is talking about them and bringing them out into the open. Bias training is mandatory for every single Meta employee. It's been instrumental in counteracting bias in the workplace. It helps people like me overcome that challenge."
As for her greatest achievement, aside from her three kids, Shepherd says a highlight is Meta's involvement in an initiative called Connect to Country. Led by indigenous creative agency Campfire x, its purpose is to connect all Australians to First Nations culture.
"Facebook is a great place to start a movement like this. We've seen lots of movements thrive on our platforms like Me Too and Black Lives Matter. But the thing about movements is they are notoriously difficult to engineer, even in social media, they take lots of time, advocates and voices. A real professional achievement is seeing major Australian corporations like Coles, Telstra and Tourism Australia want to be part of this movement."
Shepherd stresses you don't have to be particularly technical to work in tech. "You don't have to be a software engineer. You can work in any role. But because the nature of technology is it's constantly evolving, you do need to be agile and willing to keep abreast of what's on the horizon and stay ahead of trends. We need to put more of an emphasis on this, particularly in Australia."
Nevertheless, she encourages students to take an interest in maths and science. "Technology is such a fundamental driver of every industry and every sector. Future jobs will rely on it. So it's important to start early."
Like Shepherd, Bec Nyst, general manager Uber Eats, ANZ, prizes the international experience she has gained in her career. But she came to tech in a roundabout way
"I studied law and creative arts. I was interested in theatre, but also appreciated the intellectual challenge of the law. After that, I went into neither of those areas. I started my career in consulting and after a couple of years, I wanted to go on an overseas adventure. So I just looked at all the different job opportunities around the world, landed in Silicon Valley and ended up doing what turned into a six year stint in the US. That was 2011.
"I worked at eBay, did my MBA at Harvard Business School in Boston and went back to Silicon Valley and spent a number of years working at Google. I got to do all the things you read about. I brought my little puppy to work on the dog shuttle and got to experience onsite masseuse, onsite doctor, onsite swimming pool, all of that. So that was fun and a huge adventure. And I also learned a lot. But I'd always intended to just go away for a couple of years and then come home to Australia. The opportunity came up to join Uber Eats here in Australia in 2017."
Nyst says it was an exciting time. "Uber was an established company, but Uber Eats was the start-up within that established company, and certainly a start-up here in Australia. But talking to the people in the business, it was really clear there was this growing consumer momentum, clear demand on the restaurant side and an opportunity for someone to come in and think about and build out how Uber Eats works with restaurant partners in Australia, stepping into the general manager role for Uber Eats in December."
She says building teams is her greatest joy. "When I think about my best moment, building a great leadership team at Uber and a great broader team in my restaurant role, having the opportunity to find amazing people, bring them and see what they can then create has been amazing."
Nyst says one of her biggest challenges is ensuring she carves out time to spend on strategy and culture. "I want to spend time thinking about this, but there's so much pressure around the here and now, the today. Balancing short-term and long-term objectives is absolutely necessary and something I am committed to getting right."
Intriguingly, her advice to aspiring tech gurus is to find someone who is a great coach and who can really help steward your career.
"I think that's especially true in tech where it's so fast paced. There's so much opportunity. You want to be able to innovate and take calculated leaps. When I think about what I've observed makes people successful and when I've felt successful, it's really having a fantastic manager who can support you to grow."
https://www.afr.com/technology/female-leaders-subvert-rules-about-past-experience-20220520-p5an6k