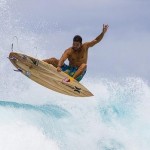 There's a quiet revolution happening in the surfboard industry that's bringing surfing back to its earliest foundations. Although the industry is dominated by foam surfboards, cutting edge surfboard shapers are increasingly making boards from wood.
One such outfit is MKSY Surfboards. Its founder, Brisbane-based industrial designer and teacher Michael Powell, has found a niche making all-wood boards from a timber called paulownia, which doesn't absorb water due to its waxy qualities.
Long time surfers hang onto their wooden boards to remind them of where it all came from.
"I've worked with wood all my life; it's a very easy material to work with," he says, explaining that one of the main reasons he wanted to build wooden boards was because he got tired of buying foam surfboards that invariably break and end up in landfill.
Michel Bourez, 2014 ASP World number five, on a Firewire wooden board. Photo: Ben Thouard
"I figured out the process, gave it a go and everyone has been blown away by the finished product," he says.
MKSY's boards are hollow, with the wooden frame structure supporting the board. It takes between 80 and 100 hours to build a board, which are all handmade. Boards retail for about $2,000, a price that reflects the labour-intensive nature of their construction.
Another passionate wooden board advocate is the team from Tree to Sea. Although it doesn't usually manufacture wooden boards, it does hold increasingly popular make-your-own board workshops from Mt Eliza, Victoria. The business is an offshoot of a US firm with the same name, which was founded by Rich Blundell, who runs wooden surfboard business Grain Surfboards in the US.
Surfing legend Midget Farrelly: wooden boards have always had a place in the line-up.
Rob Ivers runs the Aussie offshoot with his counterparts Gary Miller and Darren Minchin. The big difference between the local and US businesses is that Ivers and his team teach people to finish their boards with marine-quality varnish, rather than the less environmentally fibreglass with which most boards are generally finished.
"We get people from all over at our workshops; I got an email this morning from a family in Sweden," claims Ivers, who says people also come from around Australia to attend his courses. Fans are clamouring for the Tree to Sea team to run courses around the country, especially on the eastern seaboard. "We always have a wait list and every workshop is booked out," says Ivers.
Keen beachgoers will also be familiar with finless wooden boards, which Santa appears to have dropped in many surfers' sacks this Christmas, so prolific have they become in the breakers. Tom Wegener is one shaper who makes these boards. He's currently working on a doctorate about the sustainability of the surfboard industry on the Sunshine Coast.
Mark Richards: wooden boards are often works of art.
While niche players predominate in the wooden board market, the big surf brands are also getting in on the act.
Mark Price, the US-based CEO of hot surfboard brand Firewire, says it's important to differentiate all-wood surfboards, most of which are hollow, from those built using foam cores with wood skins.
"We believe that while all-wood surfboards are aesthetically pleasing and obviously share a link back to the first surfboards ever built, for the most part they do not offer high levels of performance because they simply weigh too much, and also don't offer much flex, if any," he argues. Michael Powell would dispute this. He claims natural timber boards are more responsive and faster than foam boards.
Price says Firewire has always pushed the envelop of shape, construction methods and raw materials.
"Our sandwich construction gives us the freedom to take lightweight EPS [expanded polystyrene] cores and then wrap those cores with a variety of deck skin materials to give structural integrity, while still maintaining the lightweight high performance characteristics that today's surfers desire. To that end we began using bamboo topdeck skins more than five years ago and the market response was very strong," he explains.
Almost three years ago, Firewire was approached by Grant Newby, an Australian who builds his own surfboards using paulownia deck skins on both the top and bottom decks, as well as the rails.
Says Price: "We made some tweaks to Grant's 'recipe' to reduce the weight and increase the performance and flex. The end result was TimberTEK technology – probably the most eco-friendly surfboard that is offered through surf shops around the world today. Granted there might be some boutique builders who offer more eco-friendly surfboards, but those would only be available in limited quantities on a regional basis. The technology has been embraced by a wide cross section of surfers and now represents almost 30 per cent of our total sales."
It's impossible to surmise the value of total sales of wooden boards annually around the world. And official statistics about the value of the wider global surf industry are hard to come by. However, one report claimed in 2010 US$6.3 billion was spent on boards and surfing paraphernalia. The same report quoted analysts who suggest the surf industry globally will be worth US$13 billion by 2017.
So what do industry veterans think of the wooden board fad? Australian surf legend Midget Farrelly, who also owns Surfblanks Australia, says wooden boards have always been around.
"First they were solid planks, then hollows followed by balsa solids and hollows, then back to hollows made from ply and plank. As long as woodwork is taught in schools there will always be someone who wants to reproduce a surfable shape in wood form."
Farrelly says it's not uncommon for backyard makers in northern hemisphere countries, where winters are long, to spend months making hollow wooden boards while there is snow on the ground outside.
"Long time surfers hang onto their wooden boards to remind them of where it all came from," he says.
Australian surfing champion Mark 'MR' Richards, who has run his own surfboard shaping business since the 1980s, acknowledges he's not particularly familiar with wooden boards. "But the ones I have seen are absolute works of art, nearly too good to be surfed," he says.
While it's unlikely wooden boards will ever take the place of foam boards, expect to see an increasing number in the line-up in the future.
Read more: http://www.smh.com.au/small-business/entrepreneur/what8217s-the-latest-surf-fad-20150129-130nr1.html#ixzz3RwwxZz8f