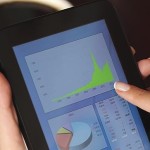 Online brokers are reporting a massive hike in people using mobile devices – smartphones and tablets – to trade stocks and other investment products. Trading houses are responding to this trend by making their mobile offerings more user-friendly and feature-rich.
The rise in people using mobile devices to trade shares and other asset classes is not surprising given our voracious appetite for mobile technologies. Google's figures show Australia has the fifth-highest smartphone penetration in the world, at 64.6 per cent of the total population.
Online trading platform CommSec has seen the number of people trading using a mobile device double in the past year. And it's not the only one to see such a dramatic rise in the use of mobile phones by its clients. CFD house IG Markets' data shows that in October 2011, only 14 per cent of clients' transactions were made with a mobile device. But now more than 40 per cent are.
So what are online broking businesses doing to entice traders to use their mobile platforms?
Brian Phelps, general manager of CommSec's retail distribution, says the bank wasn't expecting the mobile app to be so popular. "Initially we thought the mobile app would be more for information exchange, rather than for trading. But the number of trades has also doubled over the past 12 months."
Given the popularity of its mobile app, the business is committed to making it as useful as possible for traders. In terms of recent initiatives, CommSec has linked sharemarket research to its mobile share trading application. It has also enabled people using mobile devices to access stock quotes and traders can access stock-watch lists through CommBank's mobile device. It's also making available research on US stocks.
Darren Moglia, head of Westpac Online Investing, says its platform has just released four-digit mobile pin access for its trading app, making it simpler for customers who wish to access their portfolio and watch lists. "This adds to our other innovative mobile features such as interactive charting, live pricing, live news and announcements, and daily videos," he says.
The Westpac Online Investing trading app gives customer access to financial news video updates through the day. Moglia says this is not offered by any of the other online broking providers in Australia. "This means Westpac Online Investing customers can conveniently view the latest financial news, education and interviews from their mobile phones."
Westpac Online Investing has a number of mobile innovations planned for this year, which include features and products. "We see continuing to invest in mobile as critical, as this is how our customers are increasingly trading and accessing their information. We'll be announcing further details in the near future," Moglia says.
BELLS AND WHISTLES
At HSBC, clients can manage downside risk by putting in place stop-losses on its mobile platform. This means if a client's position in a stock drops to a certain value, the bank will automatically sell the position to reduce the client's losses. HSBC's traders can also make conditional orders over an ASX security or index based on a specified limit price, percentage trail, cross stock, volume or time-based trigger. Its clients can also save time by entering multiple orders on the same order pad or the same order across multiple accounts.
National Australia Bank is also improving its mobile offering. Nathan Walsh, general manager of nabtrade, says last June the platform launched functionality that gives clients live market data, including prices, depth of the market and news. Its system sends orders directly to market, to help reduce the time between a trader placing an order and the time the order reaches the market.
Walsh says nabtrade also has a comprehensive charting suite that shows price and volatility on the same chart. Clients can also access popular technical trading indicators used by investors through the mobile platform.
"Mobile is a big focus for us and we've had more than a million customer visits to nabtrade from mobile devices," he says.
Over the past 12 months, nabtrade has added more than 80 new features to its research capabilities, with monthly enhancements, he says. An example is the addition of Trading Central to its suite of research tools.
This is a leading technical analysis provider that uses chartist techniques to provide short and medium-term views of a company.
"We have made multiple rounds of enhancements to our watch list screens as clients love the real time streaming data and the ability to move a mouse over a stock to see market depth. Recently we have added the ability for clients to customise their web experience and we'll continue to listen to our customers to enhance their trading experience."
If you're looking to trade instruments other than equities, Australian foreign exchange broker ThinkForex allows you to trade currencies, commodities and major indices on a mobile device. Its mobile platform offers useful features such as charting functionality, full trade history, as well as the ability to manage positions, add stop-loss and limit orders.
"This means traders can stay in the game when they would otherwise be unable to. But in the wrong hands, mobile trading can be a lethal weapon to the novice trader's finances – which is why ThinkForex recently ensured that its education materials are also accessible via mobile," says Christopher Reynolds, director at ThinkForex.
http://www.afr.com/p/brokers_enhance_apps_for_online_IhAAiQRK2q32p21PL7HiHO